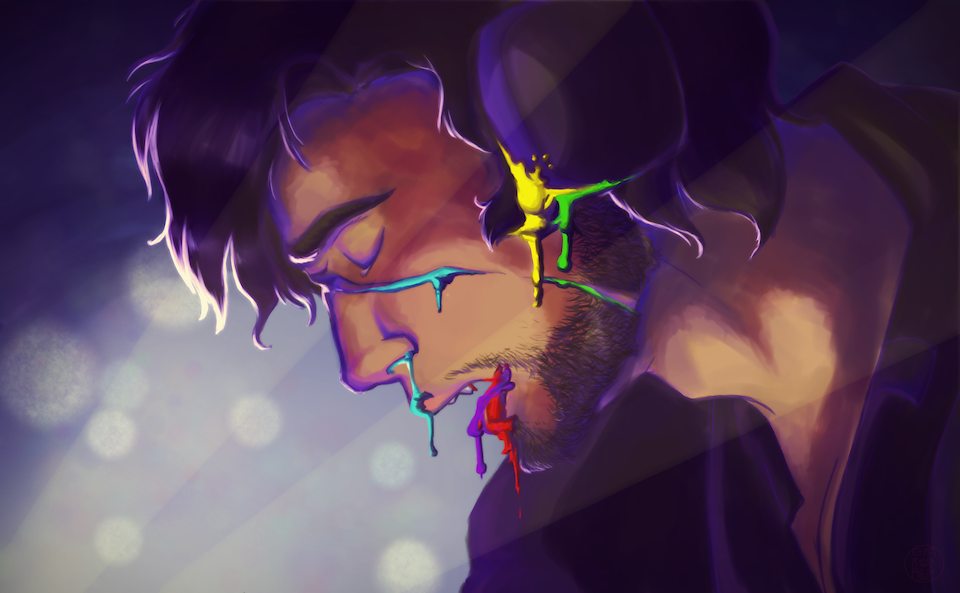 'Hold Your Colour'
A remake of a piece of the same name, seen at the bottom of this page.
'TRANSFORMATION!'
An original character.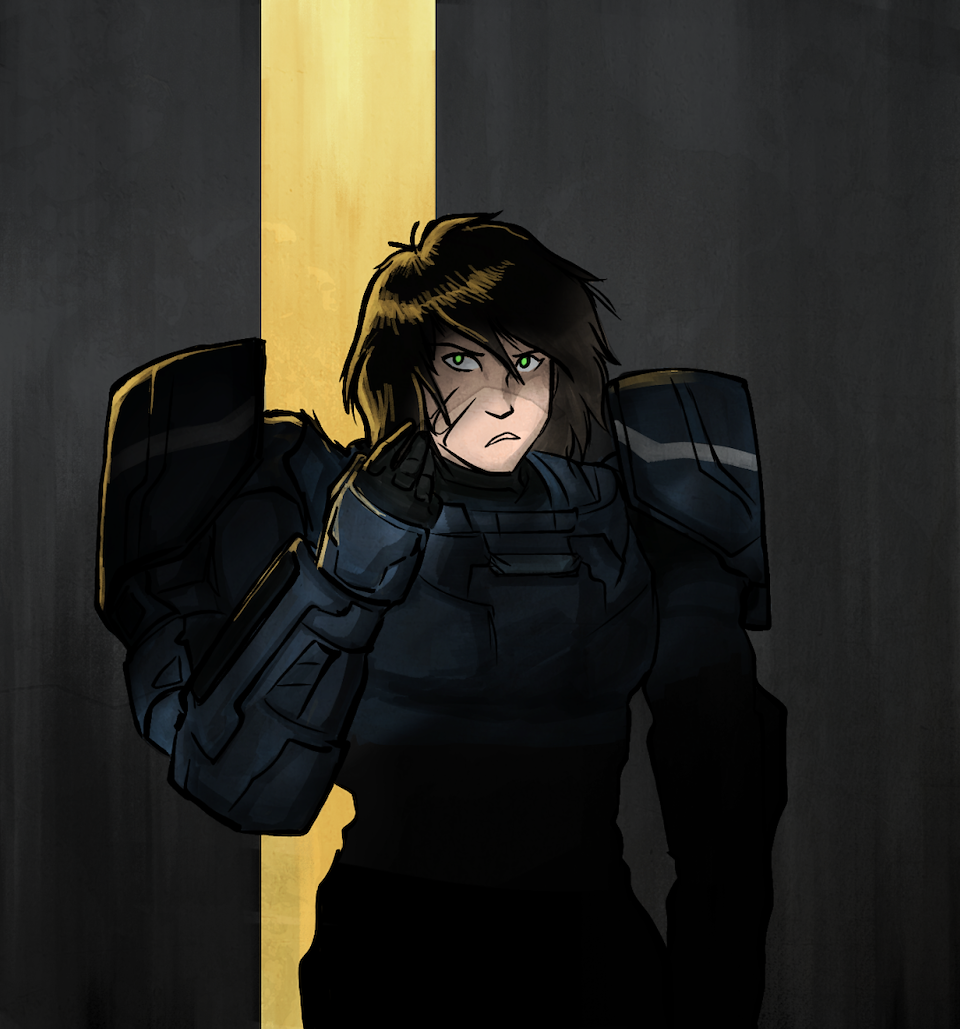 'In Your Likeness'
A piece done for a friend, featuring their Halo character, Morgan.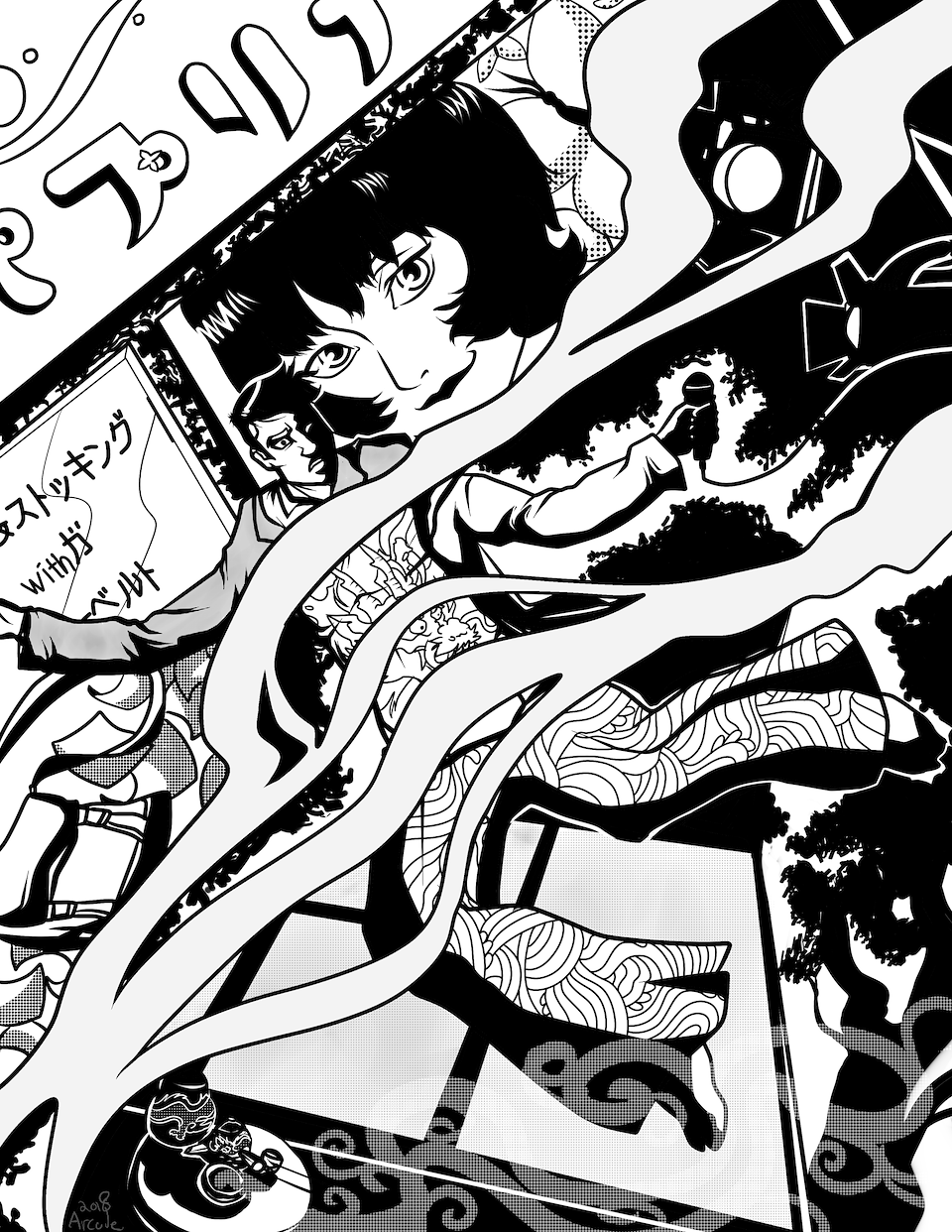 'Parade'
Inspired by the work of Satoshi Kon. Sometimes, I dream about time being non-linear. An earlier incarnation of this illustration exists in a Sooke Writer's Collective anthology.
'Pure'
A piece done to a Trevor Something song.
Greatly inspired by MyBackyardBirding 's 'Comforting A Dying Rabbit – A Documentary' – I wanted to experiment with light and colour.
'Bigger Blue'
An experiment with softness and light, inspired by a Pogo song of the same name.
'Neurochermical Warfare Gasmasquerade'
Something I did on a whim to a great USS song.
'Modern Soul'
Testing out some shading techniques and a character's battle damage. The character – Jose – often represents sacrifice and rebirth in my work.
'M O O N E C H O'
A bit of silliness when someone on my blog requested "vaporwave" aesthetic. The Japanese characters read "Because I had danced, the shining moon echoed" and are from Kenji Kawai song 'Reincarnation'
'Extol'
This was made not only to celebrate the upcoming Wolfgun release (Beyond the Stars), but the up and coming release of the Road to Jupiter Virtual Vacation Destination (Road to Jupiter CD). The Juno space probe also reached Jupiter when I made this image (July 5, 2016), and I feel that it is the right time for perfect, endless joy to begin.
Road to Jupiter is a very important album to me, and Wolfgun's work has been an ongoing source of inspiration. I cannot express in words the effect this music has on me. Thank you, Wolfgun. The above image was painted in a program called playscii which is amazing!
'Killing Punches, No Weapons'
A neon nightmare inspired by the game Hotline Miami 2.
'Concept of Love'
Testing some effects to make my art look more garish!
'Don't Say a Word'
For my partner – who has graciously supported me and my endeavors for about a decade. Thank you. 💕
'Hold Your Colour'
Done to a Pendulum song of the same name, in 2012 or so (the date is hard to read).
Personal Illustrations
Personal work, primarily from original stories I've made up over the years.